If you are working on a website redesign, you'll need to consider how to maintain SEO rankings and domain authority before, after and during the process. When creating a new website design, the aesthetics of the site aren't the only thing you need to worry about. During this process, you must take time to not only maintain your SEO but look for ways to improve it. Many companies often make the tragic mistake of thinking a website redesign won't impact SEO, but it absolutely does. If not done carefully, you could wipe out all your previous SEO efforts. There are both technical and non-technical areas to consider with major web design and development activities.
You must take specific steps to ensure that you don't damage your SEO quality when transitioning from your old site to the new site. In this post, you'll learn about SEO redesign best practices and how to make sure you don't lose SEO value.
How to Redesign Your Website and Not Lose SEO Rankings Checklist
Before you start your redesign, it's critical to understand the best practices that will allow you to preserve your SEO rankings. Consider these redesign parameters before you start:
Run an SEO audit on your current site
You should start by performing an SEO audit of your site, understanding all the keywords you are attempting to rank for and what pages are associated with. Beyond redirects, you should also be concerned about pages and specific on-page optimization that go from dev to the live site. Should your website have a lot of dynamic content, this is especially helpful.
The Importance of Historic Web Crawls
Saving crawl data from the old site is a good idea. You can use a tool like Screaming Frog to load the old site crawl and analyze it. If something disappears, use web.archive.org to show the old structure and content.
On-page Optimizations
By crawling your old site, you can export all the key on-page elements, including meta titles, meta descriptions, alt tags, and headers. Again, if it's performing well, try not to change it too much unless there have been significant changes in your company's products or services. You should also be concerned about pages and specific on-page optimization that go from dev to the live site. Should your website have a lot of dynamic content, this is especially helpful.
Setting up 301 and 302 redirects
You must redirect old URLs to new ones first and foremost. If you are making any major changes to the permalink structure, then you'll need to have a spreadsheet of all needed redirects. Once you have the new site live, crawl the old list of URLs to ensure that everything redirects as it should.
When to Use 301 Redirects
A 301 redirect is a permanent redirect from one URL to another. This redirection occurs for website visitors and search engines. In many cases, a 301 redirect can be better for SEO over a temporary one because it transfers the inbound links as well, approximately 90 to 99% of link equity. In most cases, this is the preferred method for implementing redirects on your new site.
Setting up 302 Redirects
A 302 redirect is temporary, redirecting users and search engines to the desired page for a short amount of time until its removal. Because it's temporary means you should use it during the update of a web page so that users have a seamless experience. A lot of 302 redirects can actually damage your SEO so be thoughtful when using them.
How to Maintain Page Structure During a Redesign
Page structure has a lot to do with your SEO rankings. This is because it ensures a good user experience, as they can find things they are looking for with less work. The more appealing your site is to users, the more appealing it is to search engines. If your site has poor click-through rates and low dwell time, search engines will rank it poorly.
When adding a page, stick with the same structure. For example, you may have websitename.com/solutions/solution1. If you add another solution, keep it under the parent page solutions.
There is really no reason to ditch your current page structure and create something completely new unless your company has changed what it offers.
Remember to Update the XML sitemap
Update your XML sitemap and submit it to search engines. Your 301s, page structure, navigation, and XML sitemap should all be consistent and display the new site structure.
Review and Update Your Website's Backlinks
Backlinks are critical to improving your SEO position. Review all the backlinks that point to your site, and if you find that these will be pointing to pages you are removing or changing, then make an effort to contact these sites to update the backlinks. You can also create redirects if this isn't possible because of the quantity.
Internal Link Structure
Be very cognizant of the changes you make to the internal link structure. Crawl data can be a help here as well. If you make changes to a lot of URLs, you will have broken links in your content, so you need to perform an audit. There are plug-ins available that can help facilitate this, as you don't want to delete any of these, as it could cause a negative impact.
Preserving High-Quality SEO Content
If you have content on pages performing well, then leave it as is. Minimize any changes to high-ranking content. Preserving image and video SEO is also a very important step to remember when redesigning your website. When transferring these assets to the new site, be sure to keep all the metadata and file names as-is.
Use Google Search Console to Check Your Website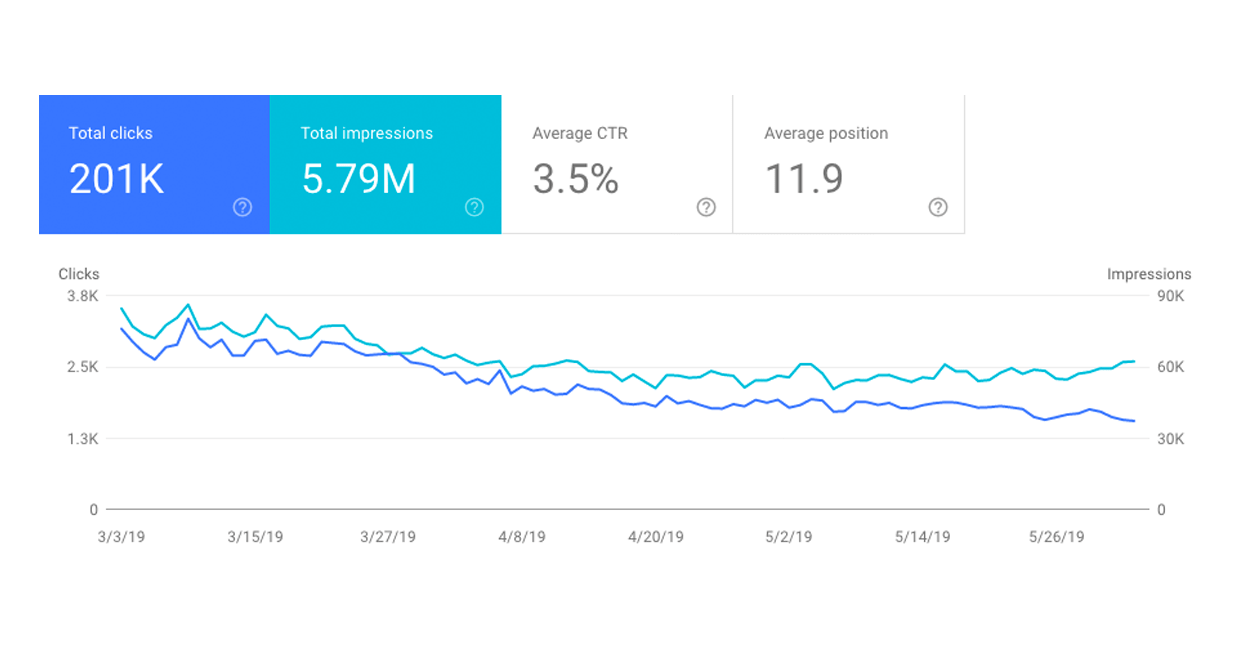 Find diagnostic information directly from Google here. You can also track 301s and 404s to ensure you've done everything correctly. Look at the Search Traffic > Search Analytics tab has a lot of great information about clicks, impressions, click-through rate, and average position.
Monitor Your Rankings and Organic Traffic
Some fluctuation is to be expected with a website redesign. You should create a master keyword spreadsheet that includes where you rank each month for each keyword and the page this keyword maps to. It's impossible to track every keyword for your site, so you also want to keep in mind which pages have high organic traffic referrals.
Test, Test Again – Technical Site Audits and More
Never assume that the live site will perform the same as the dev site. You have probably invested a lot of time and resources on testing, but things can change in the real world. You can use a technical site audit tool like Moz, Ahrefs, or DeepCrawl, which should provide you with insight on technical issues.
Additionally, consider running the website through a mobile-friendly testing tool to see how it fares. Also, check on the speed of each page with a page speed tool. Finally, don't forget about schema markup on the site.