I bet you have heard about the Drag and Drop Builder so many times and seen it everywhere, but what is this type of builder and why is everyone talking about it? So let's go back to the definition of this builder and pick some of the best ones.
The drag and drop page builder is simply a tool that allows you to built up an entire site with the power and flexibility of customizing the components and easily adding them anywhere wanted on the site. Columns, parallax backgrounds, full width images, content slider, paddings etc can be adjusted in a few minutes. Building or creating a website is certainly not an easy task to do, but with the drag and drop website builder it can save a lot of work hours.
The negative side of this type of builder is that they require some knowledge about their use. That means that if you are a completely beginner probably you may going to mess up your site at a certain moment and not knowing how to go back. Every wordpress tool has its documentation and it is written for this reason. So that means that you should read it before you get your hands on a page builder. Let's say that this is the way it always should work for everything if you are a beginner!
1. Visual Composer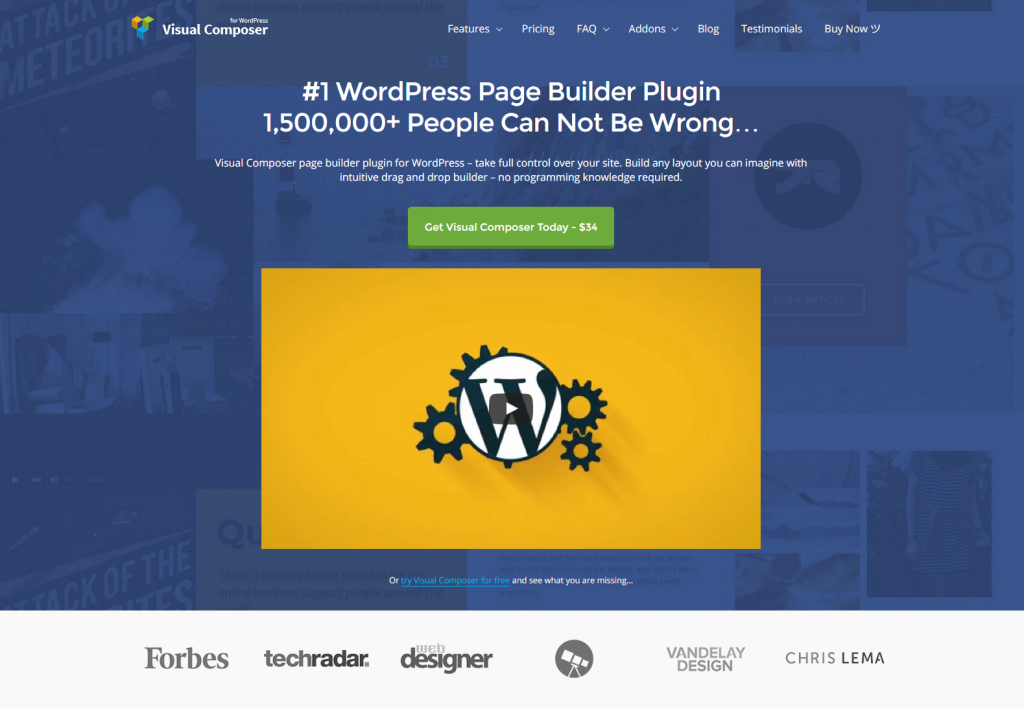 This plugin has transformed wordpress in one of the most easiest CMS to use on the market.
Visual Composer is a drag and drop frontend and backend page builder that will save you tons of time working on our site content. You'll be able to take full control of your WordPress site, and build any layout you can imagine – no programming knowledge required! Not only that, but with our frontend and backend editor you can now choose whether you want to work on backend or move your page building process to frontend and instantly see any changes you make.
Have you ever noticed how much time you waste fighting with [shortcodes]? No more trial and error with "shortcodes magic" – the Visual Composer plugin will take care of that for you.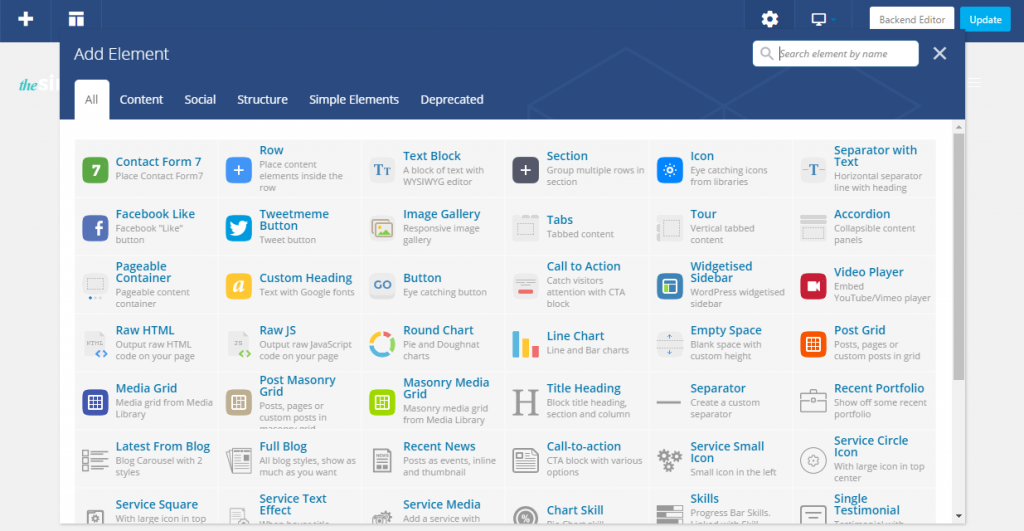 With more than 200.000 satisfied users that had purchased this plugin you can't go wrong! It is SEO friendly, it offers element preset controls, css management, design options, image filters, translation, responsive design, woocommerce support, parallax, and a ton of elements.
Price : $34
2. Themify Builder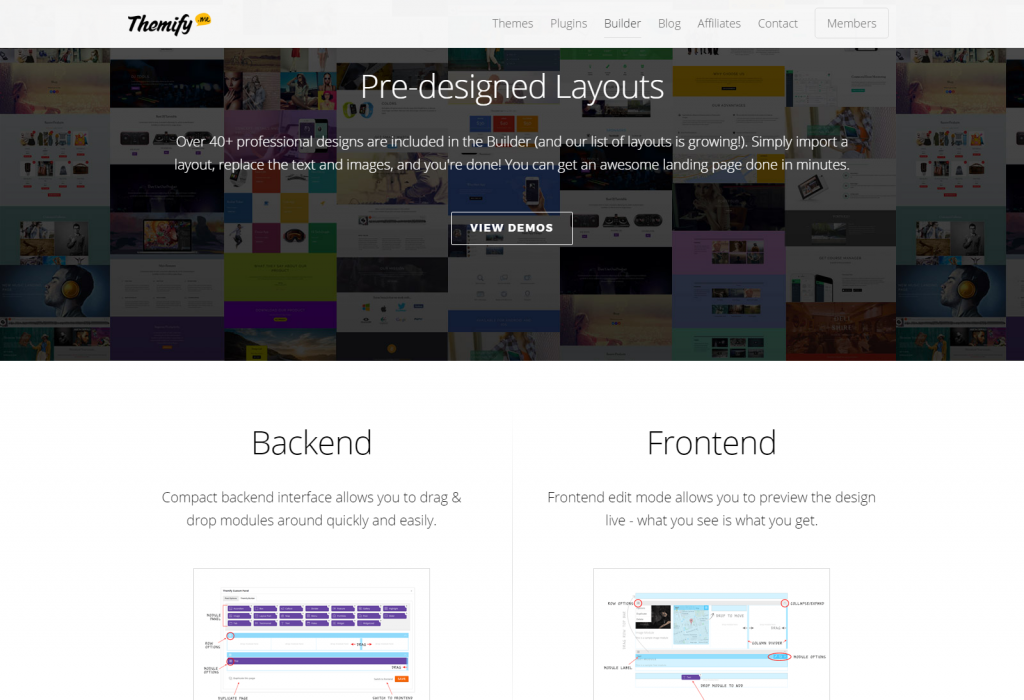 Themify is a professional page builder with over 40 precreated layouts. You can design and build by dragging elements with a click of the mouse, and see the changes with the live preview feature. You can also import a module from the computer and duplicate the content. I includes style customizing, animations, cache system, modular basement, support, translation, shortcodes, and much more.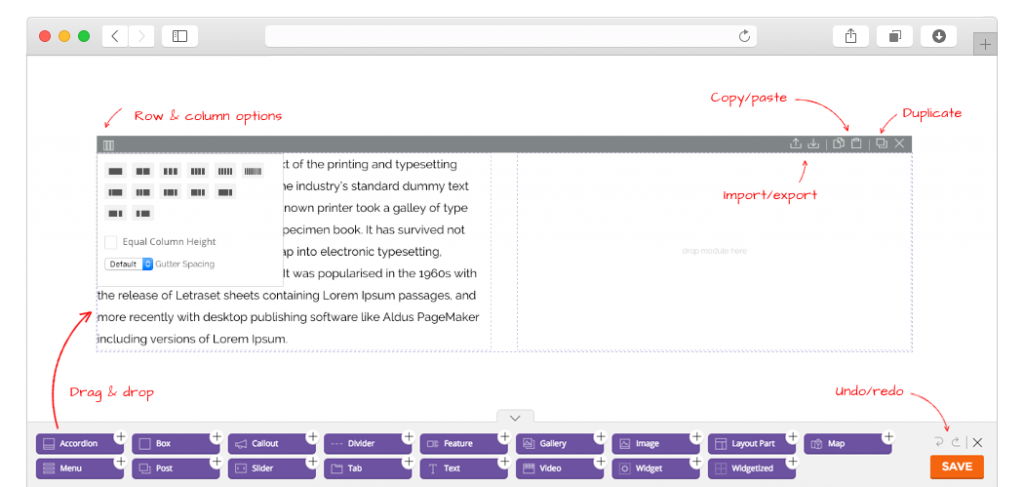 Price : $39
3. Divi Builder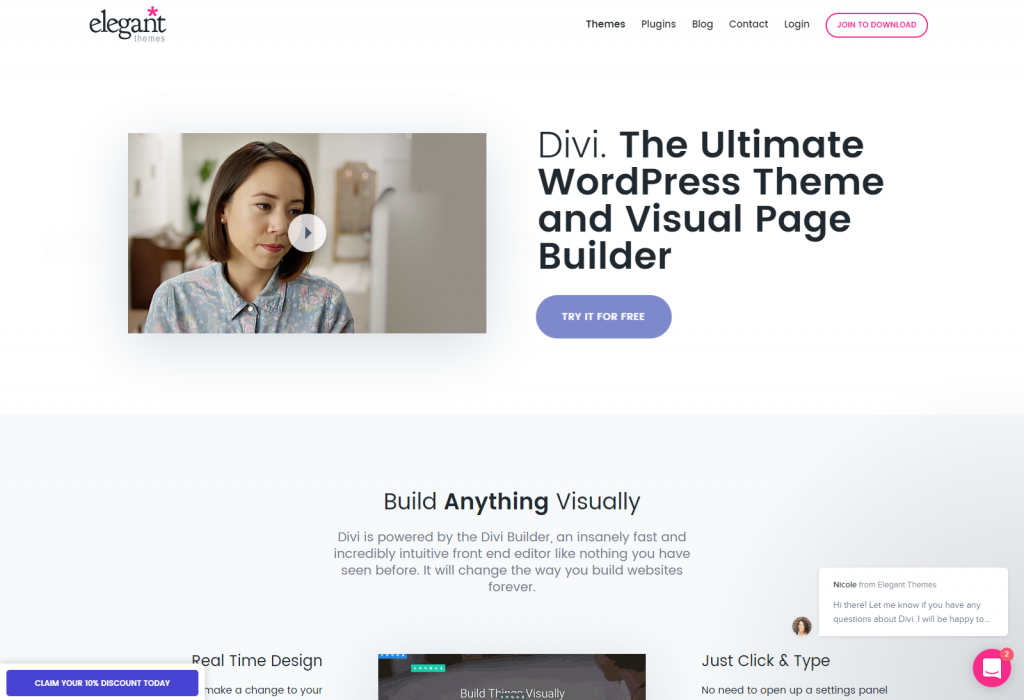 Divi builder is the newest page builder on the market to be so successful in a short period of time. It is an innovative technology, where you can actually drag and drop and customize element in the real time. Yes, everything is updated right before your eyes. You can organize with ease, import and export, inline editing, draggable widhts, instant content, drag and drop and choose between 46+ elements. Divi also comes with the premade demos to show you what you can actually do with worpress live before the eyes!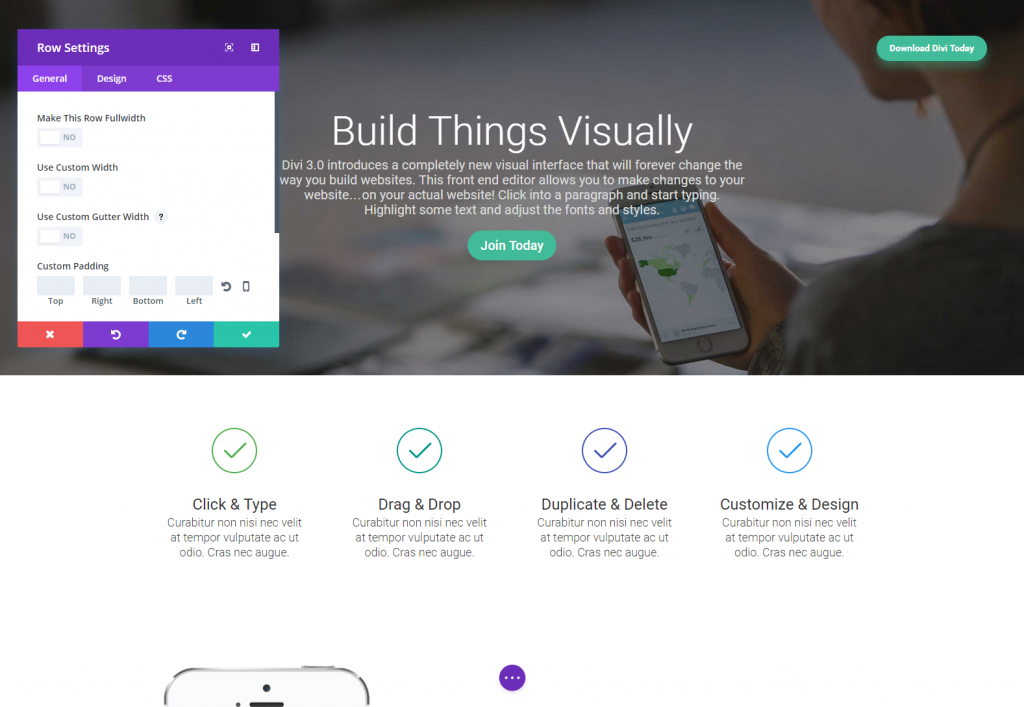 Price : $69 (starting from)
4. Beaver Builder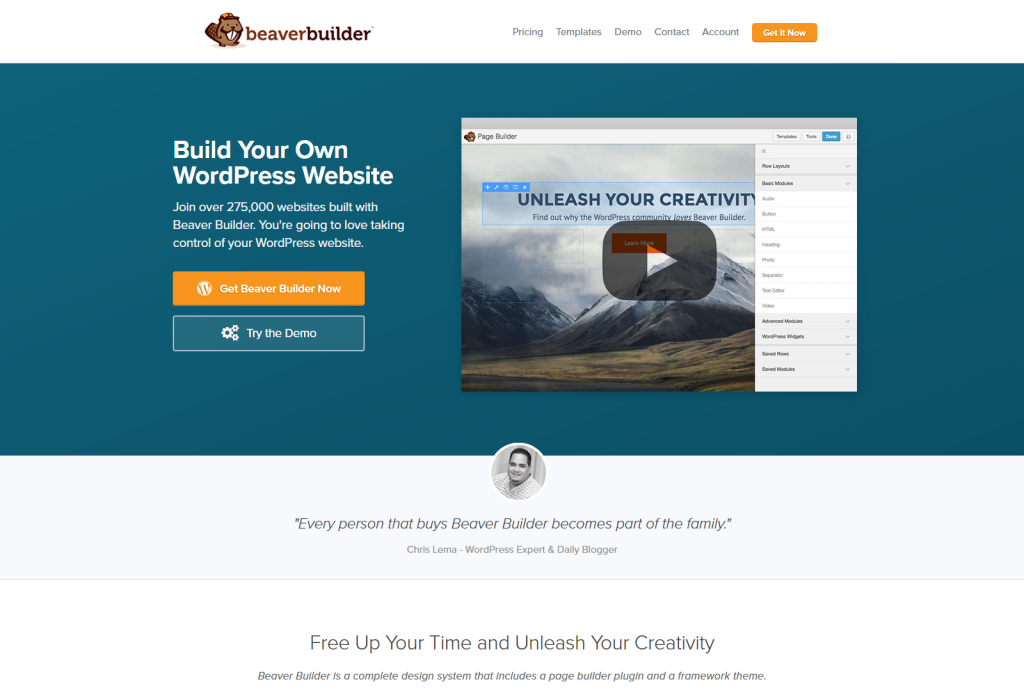 Another successful page builder with the great power to transform everything in your site. You can see all your changes as you add them by dragging elements from the right sidebar and dropping them on your page. You can click on any element in a page to edit its properties. If offers basic and advanced modules that cover almost every purpose like : sliders, carousel, backgrounds, content blocks, buttons, among many other things.
Price : $99 (starting from)
5. Page Builder by SiteOrigin
This page builder by SiteOrigin is the most popular free builder, with more than 1 million active installs. It consists on the responsive column creation and the widgets implementation. The builder works with every theme, without limitation. It is very easy to use and it doesn't require coding skills with its drag and drop interface.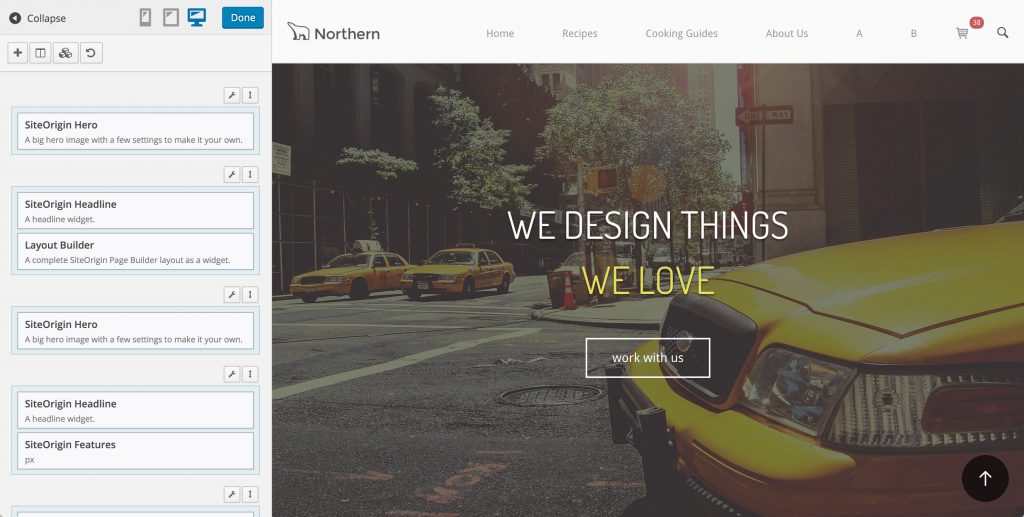 The builder is a live editing tool, that lets you see your content in real time. More on this amazing builder we can line that support history browser, row and widget styles, is it translated in 17 languages and it's FREE!
Price : Free
6. Elementor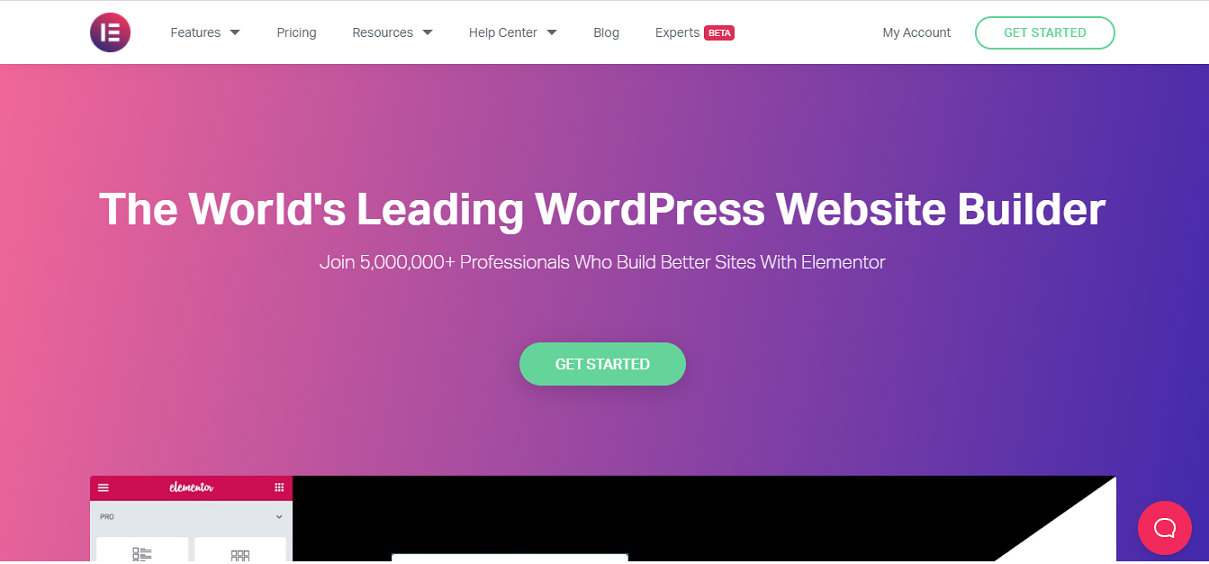 Elementor is a professional WordPress plugin that helps web developers to build their professional websites while working to grow their business and skills.
With Elementor visual builder, you can customize and build each section of your website intuitively and without coding.
It offers you over 90+ widgets to achieve your design goals and fulfill all your needs by giving you full customization freedom. In addition, you can create a flawless website with global settings, margins, padding and custom positions of typographies and colors. In short, you can build everything with Elementor, from eCommerce stores to landing pages and extremely outstanding websites.
The advanced web features such as responsive design, custom responsiveness, custom CSS and advanced animations help you create a unique website. Also, you don't have to look for additional plugins with Elementor because of its all-in-one type.
Price:
$49 per year.
Benefits of using a drag and drop page builder
Drag and drop page builder makes sure that users create their website with an interactive powerhouse and professional design that reflects their enterprise. Dragging and dropping elements into the web pages has made it easier. This feature also lets you integrate videos, pictures and texts.
With drag and drop builder you can instantly see all the activities of website building. Additionally, coding is not a prerequisite and you are not bound to use the predesigned template. In fact, you don't have to deal with the visual-based settings that daunt you in high-end templates.
Your business visibility is enhanced. The drag and drop website builder help you start a business and enhance the online presence of your business. Even if you do not have experience using it, you can still use it for professional website development. If you don't know anything about programming, just don't worry. Drag and drop builder will take care of your website creation process.
The best element of the drag and drop builder is its simplicity. In addition to that, it is easy to use particularly if you edit the website layout. It also provides multiple themes that are ideal for certain websites. Also, you get multipurpose services with the custom widgets and designs offered by drag and drop builder.
Drag and drop builders are perfect for personal blogging because it renders cheap templates.
Conclusion
After the above comparison, it can be concluded that the best drag and drop builder should be compatible with all the popular themes of WordPress. Besides, the live editor should be extremely flexible and user-friendly.
All the page builders are highly user-friendly and easy to use. We highly recommend Divi if you need a theme along with a page builder.
Elementor is the best page builder if you want a free page builder for your WordPress website. It offers a free version that is powerful and provides multiple features.